Happy Wednesday!!
I hope you are doing amazingly well because it's been a long time since
I visited you on a What I At Wednesday!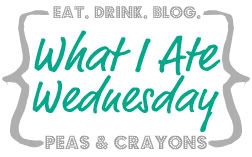 As you know, I've spent the last week with my family in Tennessee and Kentucky. Derek had to work, so sadly I had to leave him and the dogs behind. It's safe to assume that I was absolutely gluttonous during the time I was away....because I was :-) All I wanted when I got home on Monday night was some fresh fruits and veggies. All I found was some old chicken wings, cheddar cheese and some very overripe pears.
Ugh!!! What the heck was I going to eat????
Luckily, I had picked some things while I was away that aren't so easy to find in Canada. They helped to tide me over until I had time to hit a grocery store.
For breakfast I had chocolate peanut butter Puffins. Can you believe that this is the first time I have ever had Puffins?? LOVE THEM ~ especially the peanut butter ones!
I also scored some Key Lime Larabars. Best flavour ever!!! And really, really hard to find! Thankfully I've now stocked up.
For dinner, I improvised and ended up with something pretty delish. In a wok I combined a package of Green Giant Vegetable Rice Primavera (whole grain rice, zucchini, broccoli and red pepper), a can of chickpeas, 1.5 cups of diced tomatoes, a pinch of cumin and tumeric and salt and pepper to taste. I let it simmer for about 15 to 20 minutes and then served. For a quick on-the-fly dinner it was really, really good!
And I absolutely CANNOT leave without giving some honourable mention to something my neice and I made while I was away. I found it on my beloved Pinterest. This
Popcorn Cake
is a fun dessert to make with the kiddos in your life and it tastes as sweet and sinful as it looks!
So there are some of my recent eats. What have you been munching on lately? If you're looking for more foodie inspiration head on over and visit Miss Jenn at
Peas & Crayons
.
What kind of eats do you come up with when the fridge is totally empty?
Happy Wednesday. I hope you enjoy your day!
Andrea