Can you believe that it's August 31st today?! This summer has absolutely flown by and although I'm sad to see it go, I am really looking forward to the warm days and cool nights of Fall ~ it's hands down my fave season!
So what have you been chowing down on in the past week? Have you had lots of tasty eats? I am still completely tomato-obsessed and am trying to fit in as much fresh fruit and veggies as possible!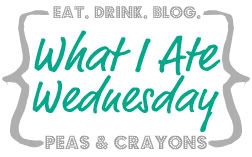 Check out some of my fave eats from the past week:
Breakie: leftover veggie pizza (with green olives of course!)
Do you like to eat cold pizza or do you reheat it? I love ooey gooey cheese, so I'm a reheater
:-D
Lunch: whole wheat bagel-wich with Laughing Cow cheese, baby spinach, fresh tomatoes and cukes
One of my all-time fave summer sammies
(right next to grilled tomato & cheese which makes an almost daily appearance in my household!)
Dinner: grilled veggie wrap & a mixed greens salad topped with fresh pears, raw pecans, goat cheese and raspberry poppyseed vinagrette
Heaven to the tastebuds!
Snackie snacks: Veggie Straws
I recently discovered this new snack, which is a healthier alternative to chips
& other salty munchies. Totally addicting and delicious!
If you're looking for more meal inspiration, head on over and visit Miss Jenn at
Peas & Crayons
to see what all her other bloggie friends have been munching on!
Have a great Wednesday!
Andrea
PS - only 2 more days 'til the LONG WEEKEND!! Wooohoooo!!!!!