Sadly, all I am eating today is a whole lotta this.
I think I ate something that disagreed with me yesterday and my poor belly has been in agony ever since!!! I like to eat and this whole twisty sickly belly thing just ain't workin' out for me!
Since I can't even begin to think about making or eating food, I thought I'd spread a little link love this morning and give you a wish list of things I've recently seen posted that I would
LOVE
to be eating right now. I couldn't completely miss out on today's WIAW fun!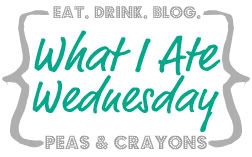 I've had Kelly's
Tropical Arnold Palmer
bookmarked for months. I've been planning to make it all summer and just haven't gotten to it ~ you know it's hard when you have 100 recipes marked "must make asap"!!! I swear that I will be making this awesome looking bevie before the last summer day has passed us by!!
For breakie, I could definitely go for some of Allison's
blueberry super pancakes
. We all know how much I've been loving blueberries lately and I'd eat pancakes for every meal if I could!
For lunch, I'd definitely go for a salad. I've been dying to try Jenn's
Greek Potato Salad
. I actually am thinking I might make it up for a barbecue we have planned in a couple of weeks! I really love that she served it in a pepper. Cutest presentation ever!!!
Jessica had posted a breakie recipe lately that I am dying to try, but when I popped over to her site to get the link, this recipe popped up. Um,
Easy Beer Mac N Cheese
??!!! Yes please!!! This girl has so many delicious and sinful recipes, it's really hard to choose just one!!!
I LOVE dessert and this recipe has been calling my name. I'm just afraid to make it without some other people around to help eat it because I could definitely eat the entire thing on my own. Check out Deanna Bauer's
Key Lime Cheesecake with Strawberry Butter Sauce
. Sounds like heaven to me!!
Alas, I think it's safe to say that I won't be doing much in the kitchen today. Luckily for me I have a freshly baked batch of
banana chocolate chip muffins
sitting on the counter to keep me company if I ever get my appetite back! Obviously I will need the chocolate to get my energy levels back up :-D
If you're looking for more inspiration, head on over to visit
Jenn
and all her fabulous blogger buddies.
Well, my bed is calling my name, so I'm off to have a nap with my "nurses" :-)
Have a good one!
Andrea