I am officially tomato obsessed!
Derek & I bought a big basket of fresh tomatoes on Sunday afternoon and they were all gone by Monday night, so I had to stop again this afternoon to pick up some more!

I thought it would be fitting to do my WIAW in honour of the gorgeous and delectable tomato since my eats over the past 72 hours have included them in pretty much every meal!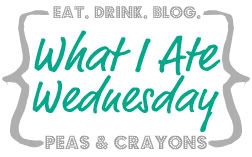 Some of the eats I've been enjoying have been......
Sliced tomato with a sprinkling of red wine vinegar, basil, sea salt & pepper. So simple, so delicious! Derek told me he only likes white vinegar, but strangely enough he gobbled this plate up the minute I finished snapping a pic ---- shhhhh, our little secret, k?!
My fave sandwich this week has been a grilled tomato and cheese on whole wheat. Like I said in Monday's post. HEAVEN. I could eat this every single day for every single meal.
ooey gooey fabulousness!
Last night I whipped up a super easy tomato soup and I'm told it's as good as Grandma Bernice's. I've got to admit, it was pretty darn good. Keep an eye out for the recipe. It's a keeper and I promise I'll share.
We topped our soup with some black pepper and crumbled up pita chips ~ yum!
And if you love pasta, check out my
roasted veggie pasta
recipe from Monday. I took the leftovers to work for lunch and savoured every bite. The fresh tomatoes are the bomb-digity in this awesome dish!
So these are just a few of my fabulous eats. What was your favourite meal from the past few days? Favourite way to eat tomatoes?
If you're looking for more food inspiration head on over to visit Jenn at
Peas & Crayons
to see what all her other bloggin' buddies have been munching on.
Have a great Wednesday!
Andrea