Happy
Wednesday
late Tuesday night! I know I'm a wee bit early this week, but I just couldn't wait to say hi! I'm so sorry that I have been MIA this week. Derek and I went away for a mini-vacation and went totally offline for almost 4 whole days! I have to admit it was absolutely wonderful and even though I've been home since late Sunday night, I've totally remained in vacation (aka lazy bones) mode!
Thankfully, I was able to get enough energy to whip up a delicious dinner on the barbecue because I just couldn't let a What I Ate Wednesday go by without sharing something fabulous!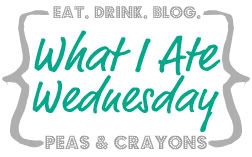 I had grilled corn, grilled sweet potaters, a grilled balsamic mushroom cap and some grape tomatoes from my patio garden. Dinner was absolutely scrumptious!
It was the first time I'd ever tried grilling corn in the husks. We've boiled corn, grilled it in tinfoil, steamed the cobs and nuked them in the microwave. Fresh corn can be cooked so many ways, but I wanted to try something new and see how it turned out.....I've gotta say friends it was awesome!
Grilled Corn on the Cob (in the husk!)
Makes as many cobs as you can handle baby :-)
What you need: Cobs of corn and Earth Balance or butter
Carefully peel down the husks of the corn and remove the silk. Don't pull the husks right off because you need them to wrap back up around your cobs.
Once the silk is removed, spread some Earth Balance on each cob.
You need to spread it around a little more than that!! :-)
Wrap the husks back up around the cobs and tie them together with some kitchen string.
I didn't have kitchen string, so I soaked some regular old white string from Derek's shed in water and used it. It did the trick but by the end of the cook time, some had burnt off.
Heat your barbecue grill to medium heat. Place the cobs of corn on the grill. Cook for 20 minutes making sure to turn to ensure all sides are evenly cooked.
Remove from the grill and remove the string and husks.
Eat up!!
There will be a mouthwatering sweet scent of caramelized corn that will waft from your platter as you take your corn off the grill --- I couldn't wait to get a bite! It was Gooo-oooddd!
And I can't forget to give an honourable mention to all the local fruit I've been enjoying. Peaches are my poison today!! I could eat this whole basket! Local = Fabulous!
If you're looking for more amazing meal inspiration, make sure you hop on over to visit Jenn at
Peas & Crayons
and check out what so many other amazing bloggers have been noshing on this week!
What is the best thing you've eaten today?
Favourite way to cook corn on the cob?
Have a great day!!
Andrea