By now I'm sure I don't even need to tell you what day it is because What I Ate Wednesdays are starting to become quite a tradition here on Vegvacious! I love Wednesdays because I get to share my eats, but mostly I love being inspired by all my fellow bloggers. There are so many meal ideas I never would have created on my own! Make sure you check out the WIAW page on Jenn's site,
Peas & Crayons
to get lots of mealtime inspiration!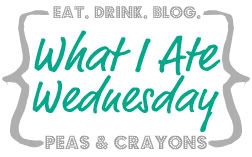 Instead of recapping a day of meals this week, I decided I would show you my fave eats from last week.
First up, check out my breakie.
Banana Split Overnight Oats
Why the pink boa you might be wondering?
Well I got the boa at a bridal shower this weekend and it just seemed to fit.
Cute pink bowl + amazing oats = breakfast fit for a special kinda gal :-)
Normally I don't love cold oats, but this combo is awesome. It was so good that I had to fight the urge to lick the bowl clean ~ seriously, I think the heat's going to my head!! 
They are super simple to make too! Add together 1/2 c oats, 1 1/4 c. almond milk, 1 1/2 tbsp chia seeds, 1 tsp vanilla, 1 tbsp cocoa powder, a mashed banana and 1/4 c. diced fresh strawberries. Mix until well combined and refrigerate overnight. In the morning, you just pull them out of the fridge and chow down! I topped mine with a blob of White Chocolate Wonderful peanut butter and some homemade strawberry jam. Yummy!!!!
She served hers with rice, but I didn't add anything to mine. The lemony freshness of this salad tastes like sunshine!
For dinner, it was all about the cleaning out the fridge.
Check out my Frittata.
We are going away for the upcoming long weekend, so I wanted to use up all the veggies that were in the fridge. Leanne's recipe for an
Everything Awesome Frittata
inspired me. Keep an eye out for my recipe, but in the meantime check out hers. It was delicious and filling and only 193 calories!!
And of course we can't forget my fave snacks. I've been eating blueberries out the wahzoo. Keep an eye out for me in the upcoming Smurfs movie because there's a very good chance I might fit right in :-)!!!
My grandma went blueberry picking and sent home a 3lb container yesterday. Um....it's already half gone and Derek's doesn't like blueberries so I think you can tell who the guilty culprit is!
My other fave snack has been graham crackers smeared with a little sunflower seed butter and homemade strawberry jam. SO. GOOD. If you have a craving for some sweets, this will totally satisfy.
So there you have it. My eats were superb this week and I hope you're inspired to make something delicious! With all the fresh produce popping up how can you not?! There's just so much good food out there waiting for you!!
What's your favourite fruit? Do you eat it by the bushel when it's in season?
Fave snack of the week?
Have a great day and enjoy being inspired by all the great foodies out there!
Andrea