Happy Wednesday once again!!! I love celebrating the middle of the week during the summer months because that means our summer weekend fun is almost within reach! I can't believe it but if I'm counting right, this is my 13th What I Ate Wednesday!! It seems like just a few short weeks ago that I stumbled upon Jenn's
site
and found myself compelled to join in the WIAW fun.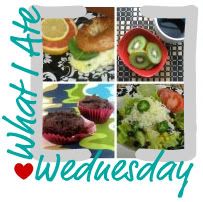 As promised, this edition of What I Ate Wednesday is all about our Canada Day Brunch. I've gotta say that Derek and I made an amazing meal that was enjoyed by everyone!!
We enjoyed:
a gorgeous fruit salad filled with cantalope, kiwi, pears, apples, watermelon, raspberries (99 cents a pint!!!!!!), blackberries and oranges. It was 95% organic and it was so cool and refreshing.
veggie kabobs on the grill
Calabrese salad (alternate sliced mozzarella and tomatoes in a shallow dish and drizzle with olive oil and balsamic vinegar and add a pinch of your homegrown basil) ---- this was definitely my favourite
for the meat eaters we had breakfast sausage and Canadian back bacon
scrambled eggs and
buttermilk biscuits (of course - no breakfast is complete without)
Check out
my
plate. It was goo-ood :-D
....and of course we cannot forget dessert.
Fresh Strawberry Cupcakes with Coconut Frosting (
recipe
from Jessica) and
Strawberry Cheesecake Bites (
recipe
from Angela)
They both were perfect for our Canada Day theme - go Red & White!!
Both were very big hits and will be making repeat appearances in our household in the very near future.
I betcha want to come to visit for brunch now don't ya?! ;-) You know you're welcome ANYTIME!
What is your favourite thing to serve for brunch?
Have a great Wednesday --- the countdown to the weekend is on my friends :-)
Andrea