Yahoo! I'm very happy to be celebrating Wednesday this week because I only have one and a half days of work left and then I'm off to see George Canyon, Montgomery Gentry and Trace Adkins with one my good friends at a huge outdoor concert event. There is nothing like a fine lookin' cowboy to make me a very happy girl ~ well in my case 4 very fine lookin' cowboys!! We have VIP tickets and will be very close to the action and I am so super duper excited!
Ok, ok enough of my bragging! It's Wednesday and we all know what that means....you get to see a day in the life of my good eats! As I was thinking about this post and what I was going to share, I quickly came to realize that I haven't snapped pics of anything fabulous to share with you today. So, you really are going to get a day in the life view of what I eat on a normal, boring ol' day.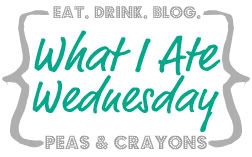 If you like what you see, make sure you pop on over and visit Jenn at
Peas & Crayons
where you can find over a hundred more amazing meal ideas!
Breakie
Lots and lots of fruit salad. Ever since our brunch I can't get enough fresh fruit!
Lunch
My fridge was full of stuff, so I decided to use up some leftovers. I heated up a mixture of quinoa, grape tomatoes, black olives, mozza cheese and some balsamic vinagrette. It looks messy, but it was goo-ood! In fact, I had this for lunch 2 days in a row.
Dinner
One of my go-to dinners lately have been a tortilla pizza. This pizza was on a 6" whole wheat tortilla and it's topped with barbecue sauce, mushrooms, red onion, grape tomatoes and cheddar cheese. Yum!
Snacks
I need to send a big shout out to Cait at
Beyond Bananas
for introducing me to the wonderful world of chocolate covered sunflower seeds! Hey girl, these rock!
Bevies
Well you`ve already heard about our beer consumption this weekend. I don`t know what it is about the summer, but the ice cold ones just go down so well :-) I`ve also been enjoying a nice cold glass of pinot grigio on the patio with dinner. Usually I`m a red wine kinda gal, but these hot temperatures have made me jump ship and join the white wine bandwagon for now.
So there you have it. Another Wednesday, another great day of eats. I must admit I eat well all the time whether it`s an exciting event or just another day in the life......
What`s your favourite summertime bevie?
Have a happy Wednesday!
Andrea