Woot! Woot! Woot! It's Wednesday once again and we all know what that means....it's time for WHAT I ATE WEDNESDAY!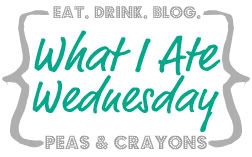 This week my eats are super easy and do not require much kitchen or cooking time. It is WAAYYY to hot in Southern Ontario and using the oven or stove for more than just a few minutes at a time is a big no-no these days! Even standing out at the barbecue in the blazing sunshine is almost unbearable. Derek's managed to grill one steak over the past few days, but lately our meals have been all about sandwiches, fruit and ice cold refreshing bevies.
Check out some of my fave meals from the past week.
One of the best veggie burgers I have made to date. Check out Angela's recipe
here
. I made 8 burgers and have been enjoying them every day at work for lunch. They are delish with a huge smear of Dad's Amazing Barbecue Sauce and some melted Daiya mozza shreds. On the side, I had a fresh, LOCAL peach. Mmmm.....
Another one of my fave sandwiches have been a TLT (tempeh bacon, lettuce and tomato). Thanks Miss Jenn @
Peas & Crayons
for this idea last week. I am
loving
this tempeh bacon. I have to tell you I never thought I'd enjoy a slice of bacon again after turning vegetarian but this stuff is the bomb! On the side, I had some Bush's Vegetarian beans. These are the best canned beans I've ever had ~ I've been loving them chilled and served on the side of just about any meal!
And finally this was what I had last night. I hummed and hawed because I had no desire to make anything to eat and finally by about 8 p.m. I decided to just open the fridge and pull the first things I saw out. What I got was grape tomatoes, sweet onion and zucchini. I ended up with greek-style brushetta open-faced sandwich (whew! that's a mouthful!). Yes, it did require the broiler, but just for a few short minutes. A recipe for this will be coming in the very near future. Promise!!!
And of course, I have to give a shout out to the best snack ever.
Fresh local cherries. HEAVEN!!! So juicy and sweet; I almost shed a tear as I ate the last one.
And last, but certainly not least, I tried a brand new bevie this week that I loved it! It was a nice change from the usual water and smoothies. Steaz zero calorie raspberry iced green tea. It's made from 100% pure green tea and sweetened by stevia. It has zero calories, fat, carbs and sugar. It's light and refreshing with just the right amount of sweetness. I will definitely be picking up more of these bad boys on my next grocery run.
So here is yet another recap of my fave eats this week. For more inspiration head on over to
Peas & Crayons
to check out what many more bloggers have been enjoying!
What is your favourite summertime sandwich? Fave bevie?
Have a great day,
Andrea