Happy Wednesday once again!
I'm so glad we've finally hit mid-week because this work week has been so loo-ooong already! I don't know what's going on with me but the minute I step foot into work, I feel exhausted and I can't seem to shake it until the minute I walk back out the door that afternoon. I think part of my problem is that Derek and I have lots of fun plans in the coming weeks and the last thing I want to do is work! I want to skip the work week and head straight for the fun!!! If only!!!
My eats have reflected my lack of motivation. I've focused on easy, filling meals. Check it out.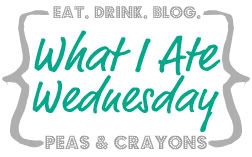 For breakie I've been LOVING Michelle's
Chocolate Steel-Cut Oatmeal
. I topped mine with some blueberries and fresh mint from my herb garden. This breakfast tastes absolutely divine!!
As you know, I have been loving my zucchini lately, so for lunch I whipped up an old family favourite. My dad's version of Goulash. There are so many variations of this, but ours is really simple. Melt a little Earth Balance in a skillet and stirfry some zucchini, tomatoes, sweet onion, garlic and 'shrooms. All of the veggies were local and this had such a fresh summery taste to it! Usually I would top it off with some parmesan or nutritional yeast, but since I'm out of both I settled from some shredded cheddar. Mmmmm.
For dinner, I had me some baked sweet potato fries and a burrito stuffed with refried beans, sweet onion, portobello mushrooms and you guessed it....zucchini!! Oh and of course we had to add a bit of cheese to the mix! This dinner took 10 minutes to make, 25 minutes to bake and about 2 minutes to consume. It was awesome!
Snackages this week have been lots and lots of local fruit and maybe a few slices of the
best zucchini bread
ever. I actually had to put half the loaf into the freezer because I could not keep my fingers out of it!! If you haven't made this yet, I'm begging you to go do it Right.Now. You will thank me for being so bossy :-)
Peaches, watermelon and plumcots (plum/apricot hybrid) have also been some of my faves this week! Sadly I'm out of blueberries, but a little birdie told me that my grandma's sending home a new supply with my hubster tonight - can't wait!!!!
So that's my eats in a nutshell. What have you been enjoying this week? For more inspiration head on over and visit
Jenn
to see what all her other bloggie buds have been whipping up.
Have a great day!
Andrea