Happy Humpity Hump Hump Day!!! I've missed the last couple of What I Ate Wednesdays, so today I'm going to cut right to the chase and let you in on a few of my awesome eats from the past couple of weeks.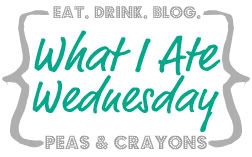 If you love what you see and you wanna see more, head on over and visit Jenn at
Peas & Crayons
!
tortilla rolls with brocolli, carrots, cheese and Ranch dressing
brocolli slaw with shredded mozzarella, diced apples and Ranch dressing
new FAVE granola bar
quinoa salad with roasted corn, green onions and feta
thin crust pizza with roasted veggies and goat cheese
What has been your favourite "go to" meal lately?
Have a great day!!
Andrea