Happy December 21st! It's hard to believe that this is the last What I Ate Wednesday before Christmas!!!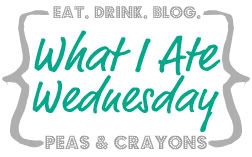 Thanks to Jenn for continuing to host such awesome eats parties every Wednesday!!!
Derek and I have been busy with Christmas shopping, parties, gift wrapping and decorating. There's also been alot of treats and temptations popping up all over the place --- cookies in the lunchroom at work, neighbours dropping over with baked goodies and wine and mixed drinks at all the celebrations. How do you handle all the treats and sweets at this time of year??
I have a hard time because I love Christmas goodies, but I do try to indulge in moderation. My rule of thumb is that I am going to enjoy the things I love. For me that includes shortbread, cheesecake and stuffing. I don't indulge just for the sake of indulging ---- if it's something that I can live without, then I can usually pass it by without too much trouble.
Since we've been so busy, I've been really bad about taking pics of my eats. It's not so much a 'day in the life' as it is some of the things I've been eating over the past week.
One of my fave things about winter is clementines. I betcha that I eat 4 - 6 per day!!
I've also been loving this homemade trail mix. This was a treat that was given to Derek and eaten by me ;-)
I've only made one Christmas treat so far. Let's just say I have a lot of baking to do between now and Sunday! This
Chocolate Graham Toffee Bark
is sooooo good. Instead of using semi-sweet chocolate chips, I used milk chocolate and I topped the bark with crushed Heath bits. It's to die for! It's easy to make and freezes well (which helps to keep my sticky little fingers out of it!)
When I find myself craving a piece of bark or other sugar-laden treat, I've been having a chocolate chai herbal tea instead. The chocolatey aroma of this tea while it's steeping is to die for! It's also a great pick-me-up in the middle of the afternoon when I'm having a lull at work.
So there are some of my eats this week; what have you been enjoying?
Do you have any tips on how to survive all the temptations of the holiday?
Have a great day!!!
Andrea