Good morning! Happy Wednesday.
Whew, it's been a looonnnggg time since I've come around these parts to share a day in the life of my eats. I'm sure many of you shared amazing holiday treats and sweets over the past few weeks, but I was so busy stuffing my face with said treats that I didn't read a single WIAW post or snap a single pic!
I enjoyed all of my eating indulgences over the holiday season, but I have to admit that I'm pretty happy to get back into a healthier eating routine (um.....my oh so snug pants are pretty happy too!).

Here's a peek at a day in the life of my eats: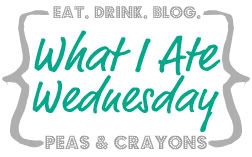 Breakfast
I made an AWESOME Baked Cinnamon Pear Steel Cut Oats casserole on Sunday and I've been enjoying leftovers every morning since. I love it topped with plain non-fat Greek yogourt and a drizzle of pure maple syrup.

*recipe for this coming VERY soon*
Lunch
Brown baggin' it is absolutely the way to go. I've been going to the gym right after work, so I bring lunch and lots of snacks to work with me. This was Monday's lunch: leftover
Festive Sweet Potato Salad
, clementines, two plain brown rice cakes with 1/3 of an avocado to smash ;-) on them later, 2 light Babybel cheese rounds (leftovers from Christmas) and a sample of
chai guarana
tea that came with an order of David's tea.
Dinner
These open-faced english muffin pizzas came straight out of The Eat Clean Diet Vegetarian Cookbook. It's fast and delish! As a side, I made some parsnip fries with dijon for dippin'.

Not too shabby, right?!
What have you been munching on now that the holidays are behind us?
If you're looking for more healthy meal inspiration as we jump feet first into 2013, make sure you head on over to Peas & Crayons to see what other bloggers have been feasting on.
Have a GREAT day!
Andrea
xoxo