I have been an absent little blogger this past week. That pesky cold that I'd been battling came roaring back with a vengeance and I couldn't breathe or taste for days upon days! Then my mom & dad came for a quick weekend visit and I was just too darn busy having fun to get online. Our laptop didn't see the light of day from Thursday of last week until last night ---- that's never happened before! Dare I say it's feeling a wee bit neglected?!
When my parents come to town, they're in high demand and other than a quick coffee at home, we didn't eat in once. We were out with family and friends for every meal, which was great, but I admit that it also feels great to get back into a normal, healthy eating routine.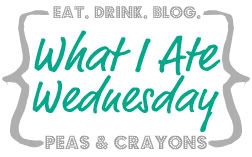 Here's a peek at yesterday's eats...
Breakfast
Peach-passionfruit Greek yogourt with granola.
Dunkin' Donuts Pumpkin coffee with milk. L<3VE (thank you DAD)!!!!
Lunch
Leftover roasted veggie thin crust pizza, a Honeycrisp apple and a Sparkling Ice ~ Pink Grapefruit.
Snack
Homemade crockpot applesauce. In this batch, I used Honeycrisp and Cortland apples.
Dinner
I was craving comfort food yesterday. I haven't felt like cooking since I came down with this cold, so most of my meals have been quick and random. Finally, last night I felt like putting together a real meal. We had cheese tortellini with veggies in a rose sauce and Caesar salad. It was so good!
What meal do you crave most once you get your appetite back?
What's your fave pasta sauce?
If you're looking for more meal ideas or some spook-tastic Hallowe'en treat inspiration, check out all the link love over at
Peas & Crayons
.

Have a fabulous day!
Andrea
xoxo