My love affair with What I Ate Wednesday continues!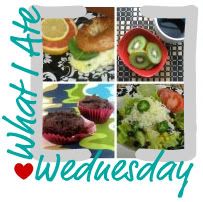 I love sharing my eats with you guys and I have gotten so many awesome meal ideas from other bloggers participating. I think I could eat a new and different meal for an entire year without any repeats!!
I'm trying to stay on track and get toned and tightened up as we come into tank top and bikini weather, so we've been having heatlthy eats at home as much as possible. The theme of this WIAW is 'simplicity'. None of these meals took much time to whip together, they are all healthy, satisfying and very easy even for the most novice of cooks.
I'm back on track with the water, so I try to start every morning off with a glass of lemon water. I've been craving cold water after the heat wave we had last week, so I've shelved my warm water habit for the time being.
For breakie, I have been LOVING the
Breakfast Cookie
!!! And by loving, I mean eating it almost every single morning and when I'm not eating it, I'm wishing I was. Today, I substituted cocoa powder for the vanilla protein powder and used Dark Chocolate Dreams peanut butter. It was a mix between a choco banana cookie and a macaroon. It was
AWESOME!
My fave lunch this week was a mixed green salad with shredded asiago cheese, sunflower seeds and multigrain croutons and dressed with a light herb vinagrette. I paired the salad with a mushroom and rice veggie burger topped with baby spinach and a wee bit of mayo. I also had a glass of orginal V8 Juice. I can't get enough of V8, especially when it's all glammed up in a wine glass :-) I was in heaven after this meal!
For dinner, I pulled every single vegetable out of my fridge and whipped up a veggie stirfry using a splash of olive oil, a pinch of sea salt and some Cajun spice. I added quinoa on the side. Luckily I had enough left over to take to work for lunch ~ I love when that happens!!
So there you have it ~ another Wednesday, another great food recap! Stay tuned next week because I'm home alone for yet another weekend and I'm thinking I should share my "home alone eats" to give some ideas to the single guys and gals out there. It could go one of two ways - either I eat super healthy and try some awesome recipes I've been eyeing up OR I grab an XL veggie pizza and eat it for breakfast, lunch and dinner. I guess you'll just have to check back next week to see what I do :-)
Until then, pop on over to visit Jenn at
Peas and Crayons
to see what some other great bloggers have been munching on this week!
What's your fave meal when you're cooking for one?
Have a Happy Hump Day - we're on the down swing to yet another weekend my friends!!
Andrea