Yay it's Wednesday! My most favourite weekday of all!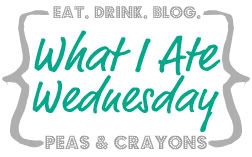 And this is no ordinary Wednesday ~ this is the day when I divulge all the treats I indulge in when my hubby is away. You know what they say, "
when Derek's away, his wifey will play
"....with food that is! :-) In the old days, all I would have been able to post here is pot after pot of Kraft Dinner with weiners, but thankfully I've evolved and become a little more creative in my eats!
I like to pick and munch all day long when I have no one's schedule but my own to worry about. This weekend was no different. I thoroughly enjoyed my down time, but I was really glad when Derek got home, so I could get back into a routine.
Check out all the good things I indulged in over the weekend.
Veggie Pizza. I wasn't kidding when I said I'd have this for breakfast, lunch & dinner!
Other breakies included iced coffee and fresh strawberries.
If you haven't tried this, go and make it right now! It is one of my all-time favourite sandwiches!
For dinner, when I wasn't eating pizza ;-) hehe, I was having a salsa bean burger on a thin
bun, with a side of stirfried broccoli with garlic and balsamic.
Stay tuned, bean burger recipe to come tomorrow and I promise you that it is dee-eelish!
Can you tell I'm lovin' these whole grain thin buns?
And of course, I can't forget all my snacks. They are an absolute must for a home alone weekend!
Strawberries dipped in dark chocolate
Brown rice chips - sweet chili flavour
Red Wine ~ of course!
Whew! Thank goodness I'm not home alone every night or I'd be in some serious trouble! I love to indulge and enjoy my down time, but it always feels great to get back to my healthy oats and salads full of greens.
If you're looking for some more inspiration, pop on over to Jenn's site at
Peas & Crayons
to explore the amazing eats of so many other awesome bloggers.
What is your favourite thing to snack on when you just want to pick and munch all day?
Happy Hump Day,
Andrea