Happy What I Ate Wednesday! I'm just a wee bit late to this par-tay, but better late than never right?!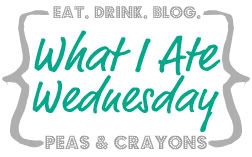 I think it's the short week that's throwing me off....and the fact that my mom & dad are coming for a visit this weekend and I am up to my eyeballs in housecleaning!!!! Oh yes friends, I am one of those girls that lets their house get completely out of control with clutter and then has to stay up to the stroke of midnight for a week before a visit to get everything back in order. Gah! I always promise myself I will be neater, but it just doesn't happen.
So....even though I'm late, I am here ---- enjoy!
First off, my fave bevie of the week has been sparkling water with fresh lime. The carbonation makes me feel like I'm drinking something fancy. It's a nice change from plain ol' water!
I tried two different breakies this week that were inspired by some fab bloggie friends.
First off we have Tina's
peach muffin
s. I baked these up last week at about 10:30 p.m. one night when I really needed some "kitchen therapy". They were easy and super delicious ~ that's obvious by the fact that the entire batch is gone-zo!!! Derek had a couple and I had more than a couple :-D
The other breakie I made was
green monster cakes
. I found this on Kat's WIAW post last week and I made it that very night (you know how I love my breakie for dinner!) I smothered mine in a bit of Earth Balance and they were absolutely
divine!
My fave lunch this week was some leftover fajita guts (peppers, mushrooms, onions, zucchini, garlic)smothered in a mock guac that I have come to absolutely love. Just mash together half an avocado, one Laughing Cow cheese wedge, a scoop of salsa and a squeeze of fresh lime. I got this idea ages ago from
Erin
and I use it all the time!
On Labour Day Monday, Derek & I both were in a total vegetative state for most of the day, so I fluttered my eyelashes and got my hubster to go pick us up some takeout from Union Burger. I had a veggie burger smothered in swiss, mushrooms, mozza and mayo with a side of onion rings. I had super high hope for this!
It was okay, but for a splurge meal it wasn't the absolute best! My home-cooked dinners are much better. It's amazing how take out doesn't taste quite as fab as it used to now that we enjoy so many awesome, home-cooked meals!
So there you have it. Another week of good eats. Make sure you check back next week because my daddy-o is going to be here and he is definitely where I got my love of food from. It's only going to be quickie visit, but I'm sure we'll manage to squeeze in some delicious eats that I'll just have to share with you.
If you're looking for more good eats, check out Jenn's WIAW page over at
Peas & Crayons
. Her Wednesday parties are hopping these days!
What do you prefer: take out or home cookin'?
Enjoy the rest of your week,
Andrea