Hello Wednesday - you sure did come back quick. Where the heck is the time going?! It's already January 18th for goodness sake!
My WIAW post this week is focusing on my dinners because they have been absolutely stellar lately. The sugar cravings are raging less and less and finally my body is starting to feel normal again. I find myself grabbing for an apple or some raw almonds instead of a Toblerone bar or box of Ferrero Rocher.
Welcome back healthy eating machine --- my waistline has missed you!
I've been sticking to the same breakies and lunches, but like I said my dinners have been rockin' the house! I've been whipping up some really quick and easy meals that are super healthy, super delish and really filling.
Here are a few of my fave dinners from this past week:
As you know I made a great big pot of vegetarian chili on Sunday. I love a homemade meal like this that is ready to be heated and served. As a side, I had whole grain goldfish crackers. I will never be too old to enjoy these little cheddar fishies!
There is seriously more snow on the placemat in this pic than what Southwestern Ontario has received this winter so far!! It's been crazy weird weather here.
I'm also totally loving veggie scrambles (this isn't just a breakfast food my friends). All I do is scramble 2 eggs with some unsweetened original almond milk. Add in some of your favourite chopped veggies and scramble away. For me, no scramble is complete without cheese. Usually I reach for goat cheese, but for this one I used some shredded monterey jack. As a side, I had a huge helping of
roasted cauliflower poppers
. I wish you could see the size of this plate --- my dinner was absolutely massive and I ate every single delicious bite!
The other dinner this week that was too die for was whole wheat spaghettini tossed with a whopping 3 cups of diced veggies, 2 tbsp of extra virgin olive oil, sea salt, crushed red peppers, Italian seasoning and a sprinkling of freshly grated parm. Momma Mia - this meal was amazing!
Look at the rainbow of vegetables --- this was soooo gooood!
So there are some of my favourite eats of the week, what's been on your plate lately? If you're looking for some more meal inspiration visit my girl, Jenn, over at
Peas & Crayons
. Her weekly eats party is HUGE and there are tons and tons of awesome foodie ideas each and every Wednesday!!!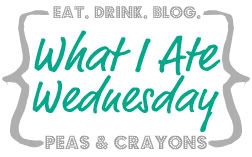 Have a great day!
Andrea