Welcome to my first What I Ate Wednesday of 2012!!!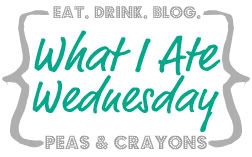 Like so many other people, I'm trying to get back on track with healthy eating, loads of lemon water and a regular fitness routine.
What have you been doing to get back on track?
This week has included lots of veggies and leafy greens. I've also found myself using a ton of goat cheese!
So after all of the indulgences of the holidays, this is what I've been munchin' on......
Breakie
As soon as I get up in the morning, I have a warm glass of lemon water.
After the water is in, it's eatin' time ~ my fave breakie has been 1 egg scrambled with unsweetened original almond milk and loads of sundried tomatoes, baby spinach and goat cheese. I love this!
Lunch
Lots of chopped veggies (zucchini, red onion, butternut squash ,asparagus, broccoli, peppers) roasted with a splash of olive oil and balsamic vinegar and topped with GOAT CHEESE!! Leftovers are awesome in a whole wheat wrap.
Snacks (always a MUST)
Non-fat greek yogourt - I have been in love with raspberry lately!
Flatbread 100% whole grain crackers smeared with mashed avocado and a pinch of sea salt.
This is a new snack discovery of mine.
I <3 this snack!!!!!!
Dinner
A classic fave from my childhood. Tomato soup and a grilled cheese with tomato sammie. I've been fighting a cold and comfort food is what I'm craving. It totally hit the spot.
So there are some of my recent eats.
What have you been munching on lately?
If you're looking for even more foodie inspiration, head on over and visit
Jenn
where you'll find ideas from lots of fabulous bloggers!
Happy Wednesday y'all!
Andrea