Haha - just joking about the 1,001 but seriously I've been involved in this WIAW hijinx for a long time now! I've met some great bloggers, found tons of meal inspiration and fallen in love with sharing my weekly eats with you!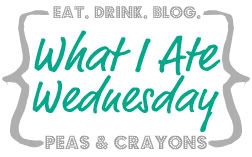 Breakfast
I strayed a wee bit from my normal breakies because when there's pizza in the house I can't think of anything else! On Saturday I made a veggie pizza extraordinaire and I've been eating up the leftovers for breakfast!
Lunch
Yesterday I had an amazing veggie wrap and salad with honey mustard but it was during a lunch date with my friend, Lisa, and I was so excited to catch up with her that I ate it up without taking a single pic *fail* ...
Snack
My grandma has a rhubarb patch and on Sunday she brought me over a batch of stewed strawberry rhubarb. Oh my gosh, does this ever take me back to my childhood. This stuff is delish on ice cream or all on its own. I've been eating it with plain Greek yogourt and granola this week. Such a great snack!
Dinner
Lucky for you I've had some awesome dinners, so I'll give you 2 for the price of 1 since I oopsie daisied on lunch. :-D
Last night I had spaghetti squash with grilled veggies and the best. marinara. sauce. ever. Of course, no "pasta" would be complete without a little parm.
May has delivered some awesome grillin' weather so far! Derek's been firing up the barbie alot and I've been taking advantage of that and letting him cook up most of our weekend dinners. One of my favourite BBQ meals is a sweet potato, grilled asparagus and marinated portabello mushrooms (I usually use teriyaki or balsamic vinegar) topped with a little melted swiss. Hands down, this is my fave summertime dinner. It's especially fab served wtih a glass of cabernet on the deck. Our nights aren't quite that warm yet, but we're getting close!!
PS - local asparagus is in season and is as delicious as ever!!!!
Is your mouth watering?? If you're looking for even more meal inspiration, head on over to
Peas & Crayons
and see what other bloggers have been feasting on this week. I wouldn't be surprised if you found lots of Mexican-inspired meals in salute to Cinco de Mayo. Thanks, as always, to Jenn for hosting our weekly eats par-tay!
Do you love pizza for breakie? Do you eat it cold or heat 'er up?
Did you celebrate Cinco de Mayo? If you did, what was the best thing you ate?
Happy Wednesday. I hope you have a
great
one!
Andrea
xoxo