Good Morning and welcome to the 2nd day of May, 2012! Just one more month and we'll be halfway through the year --- isn't that crazy?! My friend, Natasha, and I were talking about our fitness and running goals last week and our plan to look smokin' as the summer months approach. Reality has set in that it's crunch time and if we're going to eat clean and get those muscles toned and sexy the time is NOW!
So, with that being said, my What I Ate Wednesday eats continue to be clean,
healthy meals full of fresh (and sometimes local yay!) produce.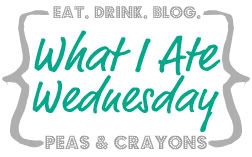 Breakfast

For some reason, being on time this week has been a bit of a struggle, so breakfast has had to be on the fly. My absolute love right now is taking 1/2 cup of plain non-fat Greek yogourt and mixing it with a squeeze of fresh lemon juice and a 1/2 tsp of stevia (or any other natural sweetener) --- I swear to you this combo tastes just like cheesecake! I top mine with a mix of frozen berries.


Cheesecake for Breakfast = MAJOR WIN
Lunch

I'm proud to say that I have become a habitual salad eater!! This salad combo has been making several appearances this week because I went a little overboard when making quinoa on the weekend. I used baby greens topped with quinoa, sundried tomatoes, grape tomatoes, red pepper, green onion and goat cheese and then I smothered the whole thing with a drizzle of balsamic vinegar. It was delicious!


Snacks
I've been trying to stick to fruit for a mid-afternoon snack. Yesterday, I treated myself to some Karmalized
SaviSeeds
(thank you foodie penpal!!). They were so good and I had no idea that 1 oz contained 5000 mg of Omega 3. I got this little package from my foodie penpal and it's now my mission to find some more of these tasty little seeds!
Dinner
This is actually Sunday night's dinner. It was soooooo good that I just had to share! Luckily I had enough leftovers for dinner on Monday night before I headed out to my zumba class. Barbecue basted tofu with stifried veggies in a honey/soya sauce and quinoa. Filling, healthy, awesome & oh so satisfying.
I've also been trying to cut my coffee down to 2 cups per day and be more conscious of my water consumption; making sure I get at least 6 to 8 cups in each day.
Thank you so much to Jenn from
Peas & Crayons
for continuing to host this weekly eats party.
Head over and check out her WIAW page for lots more meal inspiration.
What protein source do you love to add to your veggie stirfries?
Have you started making plans for your summer vacations?
I hope you have a wonderful day!
Andrea
xo