Happy Wednesday! How's your weather? Ours has been absolutely dreamy. Today is the only day in the foreseeable future that is calling for rain .... I know our farmers need it, so I'll take it, but just for today mmmkay?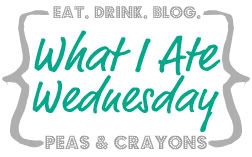 I've been attempting to keep my eats really clean and by amping up the veggies and reducing the amount of processed food, I've been having a lot of success.
Check out my recent eats:
Breakfast
If you'd asked me last week what my feeling were on eggs, I would have told you that I absolutely despise egg whites. In fact, I love my eggs scrambled, but do not like the whites or the yokes separated. When I was trying to figure out a quick and easy breakfast that stayed in line with my clean eats goal, I kept seeing recipes for egg white scrambles. So, I bought myself a container of egg whites on the weekend and decided to give it a go and see if I could choke 'em down. Surprisingly, when you add lots of veggies, some sundried tomatoes and a shake of Spicy Mrs. Dash, you'd hardly even notice that it was only egg whites! I've been enjoying this breakie for the past few days now and think it's safe to say that I am now a converted egg whites 'liker.'
Lunch
I've been having the biggest, most awesome salads ever! Most of them include baby spinach, goat cheese or grilled tofu, sundried tomatoes, tons of veggies and an apple cider vinegar/dijon combo as the topper. DEEELISH!
Snackage
I got a new vegan vanilla protein powder on the weekend and I've been loving it in all sorts of fruit smoothies. Sadly, I take my smoothies to work for my mid-morning snack and I haven't managed one single pic! My other snack of choice has been the Fitnessista's
Chocolate Chip Protein Ballz
. Um, why have I never tried these before?? A protein-packed little ball of amazingness for sure! It's the perfect treat for late afternoon when I'm planning to go to the gym before dinner...the best part is that they taste sinfully good, which tricks the junk food lover in me into thinking I'm 'cheating' - ha!
Dinner
This is definitely the most difficult time for me to stick to a clean meal because as soon as I get home from work or the gym, my immediate reaction is to reach for something to munch on. I also crave carbs and do not crave veggies at this time of day. So far, I've been doing pretty well....my fave meal was from Monday when I stirfried a ginormous plate of fresh veggies --- can you see all that asparagus?! I spiced 'er up with some cumin, cayenne and spicy Mrs. Dash and then topped it with some chopped cashews. It seems that chopped nuts or a scoop of quinoa amp up the meal to make it satisfying enough for my last meal of the day.
For dessert, I had a few bites of
stewed strawberry rhubarb
. Um...remember that big pot of stewed strawberry rhubarb from Monday??? Yep, it's gone :)
So there you have it. I'm pretty happy with how well I've been eating. I am feeling light, yet full, and very satisfied!!!
Thank you to
Jenn
for continuing to host our Wednesday eats party! Check out her What I Ate Wednesday page to get even more meal inspiration.
What do you snack on when you're heading to the gym before dinner?
What is your fave smoothie combo? My current fave is strawberry, banana & kiwi!!!
Have a great Wednesday!
Andrea
xoxo