Good morning guys! How's your week been so far?! This week has been so busy for me. My lunch bag has come home with food still in it because I've been too busy to stop for a snack....missed snacks
never
happen to me!!
Even though I've missed a couple of snacks over the past few days, I've still managed to eat some pretty awesome meals. Here's a peek at yesterday's eats: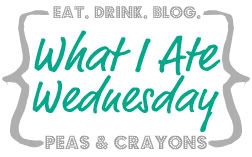 Breakfast
I ate these
pumpkin spice pancakes
for breakie on Sunday, Monday & Tuesday. I hated to eat the last bite; these are
that
good!!
Lunch
My lunch yesterday was delicious! If you follow me on Twitter or Instagram, you would have seen this HUGE bunch of kale that my grandpa dropped off to me on Sunday.
I ended up making a massaged kale salad that included avocado, dried cranberries, walnut pieces, cucumbers, celery and feta. The dressing was an apple cider vinegar/dijon combo.
As snacks, I took some clementines, a pear and some Tazo green tea k-cups.
Dinner
Last Friday, my grandma and I went out for lunch to a restaurant across the street from my office. I ordered the cheese & onion tart and it was ah-maze-ing!!! I really want to recreate this amazing tart at home and last night was my first attempt.
I caramelized some onions in butter & red wine, added some aged cheddar, and then folded them into my grandma's famous pie crust. It was good, but the crust wasn't quite right. I promise that I'll keep working on it and hopefully perfect a recipe to share with you in the very near future!!
So that's my eats in a nutshell.
What was your favourite meal from yesterday??
If you're looking for more meal inspiration, check out Jenn's What I Ate Wednesday
page
and I promise you that you'll find a ton of awesome eats!!
I hope you have a wonderful day!
Andrea
xoxo