Happy Hump Day!! Although today is better than the usual hump day because there's only one more workday left!! Yayyyy!
I am super excited to present another "What I Ate Wednesday" because I've gotta tell you that today was a good food day for me....a REALLY good food day :-)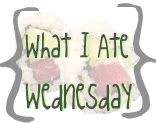 As usual, I started my day off with a warm lemon water with a pinch of cayenne. I wanted to start off healthy and good because I had a feeling that some over-indulgence was about to happen.
Now on to lunch....there are no words to describe. Check it out.
Here is my plate....er, I mean plates. So yummy, so carb heavy :-) So worth it.
Some of my yummies included glazed carrots, creamy coleslaw, orzo spinach greek salad (of course!), tortellini in a rose sauce, hashbrown casserole, crockpot stuffing, pumpernickel with spinach dip and the best cheesy rice/veggie casserole I have EVER had.
Of course, I couldn't deny myself a taste of dessert. I had some fruit, Skor Trifle & a lemon square.
Drool...
So there you have it. Another day full of amazing eats...in fact too many amazing eats ~ I had to put my stretchy pants on tonight ;-) !!
I hope your eats were as good as mine - have a great evening.
PS - Happy Birthday to our sweet boy, Hank. Today he is 2.