Can you believe it's Wednesday again already?! I've said it before, but I'll say it again...I just
LOVE
short work weeks :-)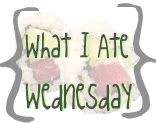 I've gotten back on track and "Operation Kill the Cream Egg Calories" is going quite well :-)
Check out my good eats.
Of couse, as usual I start with my warm lemon water with cayenne.
And then my plan is to have one of these every morning.
I just love green smoothies, especially now that the weather is starting to warm up. This smoothie has frozen banana, 1 scoop of Vega Vanilla Almondilla, frozen fruit (strawberries, peaches and pineapple), spinach and distilled water. It was awesome!
For lunches this week, I'm sticking to my leftover
Southwestern Veggie Soup
. I think this soup is getting better with age; the flavour just keeps getting better and better! This is the perfect lunch for a week that calls for rain and storms every day.
If I get the munchies in the afternoon, I've been trying to make wiser snack choices. Lately I've been loving raw veggies with some form of dip. Here I have a light Ranch, but I've been eating massive amounts of hummus and roasted red pepper dip too! It's amazing how a little dip can jazz up your snacks!
For dinner, I had
20 Minute Roasted Tomato Pasta
from Jessica at
How Sweet It Is
. I used brown rice spaghetti and sprinkled it with nutritional yeast in place of the cheese. Instead of having a huge plate of pasta, which is usually how I roll, I also roasted some butternut squash. One of my all-time favourite vegetable sides - it was sticky and sweet and oh so amazing!
This meal got a great big "thumbs up" from Derek!
Is your mouth watering with all of my delicious meal ideas? All of these are super easy, can be whipped up in a snap and are absolutely delish!! Did you notice that I used clean, whole foods and that my meals lately have been completely vegan (except the ranch dip of course!). I'm feeling awesome and healthy and proud for getting myself back on track after a few days of indulgence.
For more amazing meal and snack ideas, check out
Jenn's
website for some inspiration.
What was you favourite meal today?
Happy Hump Day!!
Andrea