Have we arrived at Wednesday again?! You know what that means....you get yet another peek into my good eats!! I can't tell you how much I love sharing some quick and easy meal ideas with you! This WIAW craze has inspired me to step out of my comfort zone and try some new things too! As I planned out this post, I realized that I've been eating all types of different foods. Today, I was in Greece for breakie, India for lunch and Mexico for dinner ... if only I could give a wiggle of my nose and actually be in those places .... ah, a girl can dream can't she??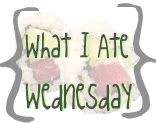 I hate to brag, but I've had some really great eats this week....and my focus on easy meals has helped me to get out of the kitchen at a decent hour. No more washing dishes at 9 p.m. my friends!
Check out my eats.
This morning I didn't get up in time to eat before my workout. I didn't even get in a warm lemon water <insert wrist slap> I hate when that happens because my body feels like lead and it takes me forever to feel awake!
I'm trying to cut back on my coffee-a-day habit, but I decided that my level of exhaustion entitled me to just one. Gotta love a large Timmies coffee with one milk.
Breakfast
First up we have strawberry-flavoured Chobani Greek Yogourt with strawberries and
chocolate coconut granola
. I've been loving this breakie after an early morning workout. I find that it usually satisfies me until it's time for lunch.
Dear Chobani,
I know we just met, but I think I love you.
Please come to Canada ASAP.
Love, A
xoxo
This yogourt is really, really good. It's so creamy; I absolutely loved it! I only had a strawberry and a blueberry, but I've seen many different and amazing flavours in the blogging world that I'm dying to try. Good thing I'm heading to Kentucky at the end of this month to visit my parents. My plan is to bring my biggest suitcase, so I can fit in lots of groceries to bring back home with me. Will Delta accept a large-sized cooler in checked luggage??
For lunch, I had some leftover Indian-inspired veggies. This was an awesome lunch! I think a bunch of my co-workers will be trying out this recipe because I had tons of compliments on how good my meal smelled. It was just as good today as when I made it fresh!
I forgot to take a picture before I dug in, so you're getting my original photo.
I wanted to keep my calories low, so I skipped the tofu this time.
For dinner, I whipped up Jenn's
fiesta quinoa
, with a side of guacamole and
baked nachos
.
Scrumptious! This was an amazing and easy dinner!
These meals were so satisfying that I really didn't have an urge to snack. I did treat myself to 2 squares of dark chocolate after dinner to satisfy my sweet tooth and keep my nighttime cravings in check....they were my last 2 squares and I don't know what happened ~ they were in my mouth and on their way to my belly before the camera had time to click a pic! Oops! Good thing you all know what a good piece of chocolate looks like :-)
Hopefully one of these amazing meals has tickled your taste buds and inspired you to try something new. If you're looking for more ideas, make sure you drop by Jenn's blog,
Peas and Crayons
, for lots more inspiration!
What flavour of Chobani yogourt is your all-time fave?
What was your best meal today?
Have a happy Hump Day y'all!!
Andrea