Happy Hump Day!! Oh yeah kids, it's that time again already; Time for What I Ate Wednesday! Isn't nice to have a holiday Monday to help the rest of the work week fly by?!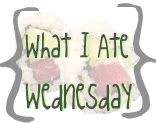 I've found myself craving lots of fruits and veggies the past few days now that the temperatures have gotten a little warmer and the sun has started to show it's gorgeous face. Today, is all about good eats to satisfy my cravings and keep me fueled from morning to night. It's also about being a conscious eater so I can drop these 10 pesky pounds I seem to have inherited!
Early mornings + Circuit Workout at 6:15 a.m. = Breakie on the Go. This morning I took a green smoothie to go in my all-time fave travel cup. This smoothie had frozen banana, frozen strawberries, baby spinach, water and Vega Vanilla Almondilla smoothie powder. It was
really
good!!
By the time I finished my workout and got to work, the growly hunger monster was starting to rear its ugly head, so I whipped myself up a banana with all natural peanut butter for a snack. I have been LOVING this snack lately!! Sometimes I get strange looks from my co-workers as I cut up my banana and smear it full of PB ~ I just smile and take a great big bite because I know they're all just wishing I'd make them a snack too :-)
Yes, I might have had a couple of nibbles before snapping this pic :-)
For lunch I had two lefover eggplant parmesan medallions (check back tomorrow for eggplant parm recipe)!Usually this goes with pasta, but I didn't want to overload myself on carbs and have a sleepy afternoon. Instead I served the eggplant parms on wilted spinach and marinara sauce. Delicious and satisfying! I also had a V8 Juice on the rocks :-)
I sipped on water all day and during the afternoon lull I had a divine piece of dark chocolate to perk me up. Ok, ok maybe I had 2 pieces ;-)
What is with that cup?! It just keeps popping up everywhere!!
I've been super busy at night trying to get the house in order, our yard looking half-way presentable and myself packed for my weekend away with the fam. I've been opting for quickie meals and tonight was about as quick as you can get. I had a 6" Veggie Delite Sub on whole wheat bread from Subway. I load my veggie subs with swiss cheese, lettuce, tomato, cukes, green peppers, lots & lots of olives and honey mustard; d-e-l-i-c-i-o-u-s!! I actually bought a footlong, so the other half will be my lunch for tomorrow. I can't wait!
This pic doesn't thrill me. The sub was much more fabulous than it looks here!
So there you have it. Another week, another post with lots of great and easy eats.
Check out Jenn's site at
Peas & Crayons
to see many other amazing meal ideas by some of the most amazing food bloggies on the Net.
As usual, I want to hear about your fave meal over the past week. You readers inspire me as much as my bloggie friends!
Have a happy day,
Andrea