I've been totally loving Wednesdays lately! I love sharing my good eats, but I
really
love seeing and reading about what everyone else eats as well! Sometimes it is so easy to fall into the rut of having the same meals week after week and I'm constantly finding inspiration from my friends for new and exciting meals. Hopefully you'll get some inspiration from me to make easy and healthy meals as well!
I've been having some awesome eats lately. Check it out.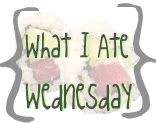 Of course, being the creature of habit that I am, I start my day off drinking a warm glass of lemon water with a dash of cayenne pepper.
On mornings when I go to the gym before work, I've been laying off the green smoothies because that requires the blender, which creates a whole lotta doggie chaos at 5:30 a.m. My dogs love the kitchen and are always lurking around hoping that I'll drop something. If they hear the blender come on, they both come running. The problem is, they are in our bedroom and Derek doesn't exactly appreciate being
woken up
jumped on by 2 rottweilers at that time in the morning :-)
So, instead of a green smoothie, I make myself and quick and easy breakfast of strawberry-flavoured greek yogourt with some
chocolate coconut granola
. Soooo delicious!
For my mid-morning snack, I've been sticking to fresh fruit. Pears have been my fruit of choice lately.
So sweet, so juicy....I CANNOT wait until we start getting some fresh, local fruit!
For lunch, I had some of the super-filling
energy boosting protein salad
I made on Sunday. I still am totally loving this salad ~ it's awesome because it keeps me satisfied until dinnertime.
For dinner, it was a
honey veggie stirfry
with a piece of panfried teriyaki tofu.
This was soooo good!! I used to think I always needed to have some sort of grain (rice, pasta, etc.) with stirfry, but this was delicious and satisfying all on its own!
I was late eating dinner because I went to a 6 p.m. spin class right after work, so I didn't even have a snack before bed!
Have I made you jealous?? I had some seriously good and
healthy
eats lately!! Believe me, if I could, I would come and cook for each and every one of you :-) At the very least, I hope I've motivated you with some healthy meal ideas. Check out Jenn's WIAW
page
for even more motivation!
What was your fave meal of the day??
Happy Hump Day!
Andrea