Welcome to Wednesday! Oh yeah baby, it's that time again. The day where I get to share some of my great eats with you, so that you can be inspired to whip up some super quick and healthy meals.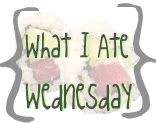 Our house has been full of fresh, local produce this week. In fact, when I got home from work yesterday, there was yet another full bag of fresh asparagus hanging from my door knob. I 'm very lucky because my in-laws are great people who would never let us go hungry ~ they certainly know the way to my heart!!

First of all, I have to toot the horn of whoever invented this. I love, love, LOVE this cup! I don't what it is, but I have to tell you, I am drinking a massive amount of water. I fill it up first thing in the morning with a couple of fresh lemon slices and I sip away all day. I'm easily getting my 8 glasses of water in now! Maybe it's the fact that it's cute and pink and girlie or maybe my early morning workouts and the warmer temperatures are making me thirstier...I truly don't know what is going, but whatever it is, I'm so glad it's working because finally I've found a way to stay hydrated!
For breakie, I have been stuffing myself with
rhubarb apple bread
and
a
little
alot of Earth Balance. I am so addicted to this bread! I finished the last piece this morning and I've been trying to figure out when I'll have time to bake another loaf. I'm thinking by the weekend at the absolute latest!!
For a mid-morning snack, I've been loving a banana smeared with all-natural peanut butter. Heaven! This is one of my all-time favourite snacks. I had this snack at work today and I forgot to bring my camera, so you're just going to have to use your imagination. All I do is cut my banana into bite size chunks and smear a little PB on each piece. It is so good and it makes me feel like I'm eating some sinful treat! Here's a PB and banana image to get your imagination going and your taste buds dancing.
Lunch this week is all about leftovers. So far one of my favourite lunches has been a lightened up version of Angela's
Protein Power Goddess Bowl
. I loved her original recipe and I love this lighter one even more! This is a great meal idea for days when you've gotten in a good workout session or have spent a lot of time doing yard work and gardening and you need a good healthy meal that packs a mean punch of protein! This bowl is packed full of veggies, lentils and quinoa and dressed with a delicious lemon tahini dressing.
For dinner, we've been enjoying lots and lots of asparagus. I love it roasted, barbecued, steamed or just about anyway you can possibly cook it. Here, I'm having
garlic roasted asparagus
with a baked sweet potato and some teriyaki tofu! Healthy, filling and deeeelish!
Well, there you have it. Another week and lots more great meal and snack ideas! Do you see anything that suits your fancy?? If you're looking for even more inspiration, check out Jenn's
site
where you'll find tons of ideas!

...um, I just realized that there is virtually no sweets in my eats, so I'm going to have to say 'bu-bye' and rectify that situation RIGHT NOW ~ dark chocolate, here I come!!

What was your favourite meal so far this week?
Happy Hump Day!!
Andrea