When the moon hits your eye like a big pizza pie that's amore....
When I think about romantic dinners, I think pasta.

Derek and I like to take a break from the kitchen and go out to celebrate Valentine's Day. We've been married for 11 years now, so over-priced flowers and elaborate gifts aren't necessary. All I want is a nice dinner with my man and by going out, we get to spend some quality time together and I get to enjoy a break from the kitchen.
If you're the type of person who would rather stay in and romance your sweetie with a delicious and heart-warming meal, I have the perfect Italian entree for you! Pair this pasta, with a bottle of your favourite red wine and some strawberries dipped in chocolate and you are sure to sweep that special someone off their feet!
Romantic Pasta for Two
Serves 2

1 pkg of your fave spaghetti (I used brown rice pasta)
2 pints grape tomatoes (I used red & yellow)
1/2 red onion sliced
6 large crimini mushrooms, cut into quarters
1 tbsp minced garlic
1/2 tsp sea salt
1 1/2 tsp Italian seasoning
1 1/2 - 2 tbsp extra virgin olive oil
Pre-heat your oven to 325. Spray a baking pan with non-stick spray.
In a large mixing bowl, combine the tomatoes, onion, mushrooms, garlic, sea salt, Italian seasoning and oil. Stir until the veggies are evenly coated with olive oil and seasonings.
Pour the tomato mixture out evenly into your baking pan. Roast for 50 minutes making sure to give the pan a shake once or twice during the cooking time. Once the tomatoes are roasted, use a fork to gently mash them down.
While the veggies are cooking, prepare your pasta according to the package directions.
Once done, place your pasta in the middle of the plate and top with half of the tomato mixture. Finish the plate with some freshly grated parmesan and a pinch of basil. I used dried, but fresh basil would be amazing with this!
The yellow tomatoes are the sweetest little suckers I've ever had!
The tomatoes are done roasting when they start to wilt and split open.
Gently mash with a fork, but be careful they don't squirt ya!
As a side, I made heart-shaped garlic toasts with cheese.
My large heart-shaped cookie cutter was perfect for cutting the toasts into cute little hearts!
The roasted tomatoes in this dish are so sweet and flavourful. You're sure to make your special someone weak in the knees before they even leave the table ;-) We thought we'd died and gone to heaven when we tasted it!
Do you celebrate Valentine's Day or is it just another day on the calendar?
What is your favourite thing to make when you're trying to "wow" that special someone?
If breakfast is more you're thing, check out last year's post for a cute and easy breakie idea!
I've added this post to a Love Fest link party. If you're looking for meal ideas, crafts, gifts or anything love or V-Day related, check it out!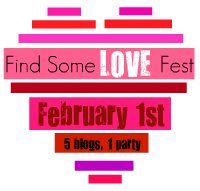 Enjoy your day and happy romance-planning!
Andrea
PS - don't forget to follow me on Twitter or Pinterest - just click the buttons on the right!